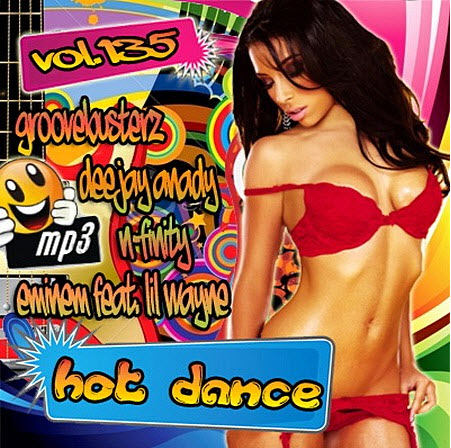 VA - Hot Dance Vol.135 (2010)
Dance | 1CD | MP3 avg 256 kbps | 219 MB
Track list:
01. Chris Deelay - Follow Me (Radio Edit)
02. David Latour vs Moonflower ft Abs- Baby Girl (Original Edit)
03. Deejay Anady - No Time To Bleed (Chris Galmon Mix)
04. Desaparecidos - Together And Forever (Antoine Clamaran Remix)
05. DJ Fait - I?m ok (Club Mix)
06. DJ Got Us Falling in Love (Kris Mctwain Edit)
07. DVJ Electra - I Feel You (Misha ZAM Remix)
08. Eminem Feat. Lil Wayne - No Love
09. Freedome - Where Have You Gone (Extended Mix)
10. Groovebusterz - Can You Feel It (Extended Club Mix)
11. Jaybee - Say You Will (Ti - Mo Remix)
12. Komodo - Keep Control (Extended Mix)
13. MBrass pres. MagicVision - Take Me Higher (Radio Mix)
14. MC Erik & Barbara - Do It 2010
15. Neno Feat. Tara - Daylight (Vocal Version)
16. N-Finity - Gettin Over You (Kritikal Mass Mix)
17. N-Trance - Is This Love (Raverforce Remix)
18. Paffendorf feat. Fara - Will I Ever (Bootleggerz Remix Edit)
19. Prima Donna - Lucky Star (D3Y Vs. Lanxodt Remix)
20. Rock City - Morning Noon And Night (Prod. by David Guetta)
21. Scarlet - Your Love Is My Drug (Kris McTwain & B-Tastic Edit)
22. Scotty - Westend Girls (2nd Mix)
23. Spacekid feat. Inka - Wise (Tune Reloaded) (G4bby & Jixaw Mix)
24. Take Me With You - Rares And Joshua (Extended Mix)
25. Tom D-Light vs DJ East - Angels Eyes (Orginal Mix)
Download Links

Hotfile
http://hotfile.com/dl/82264223/a058350/Hot_Dance_Vol.135.part1.rar.html
http://hotfile.com/dl/82264242/33bab68/Hot_Dance_Vol.135.part2.rar.html
http://hotfile.com/dl/82264377/03632a1/Hot_Dance_Vol.135.part3.rar.html

Fileserve
http://www.fileserve.com/file/tan4qv6/Hot_Dance_Vol.135.part1.rar
http://www.fileserve.com/file/fHC84Bn/Hot_Dance_Vol.135.part2.rar
http://www.fileserve.com/file/wrr59Ya/Hot_Dance_Vol.135.part3.rar


All links are interchangable. It mean you can download any part of archive from any server and can extract it without problem! PM me if links are dead, I will try to re-upload the file if I can!