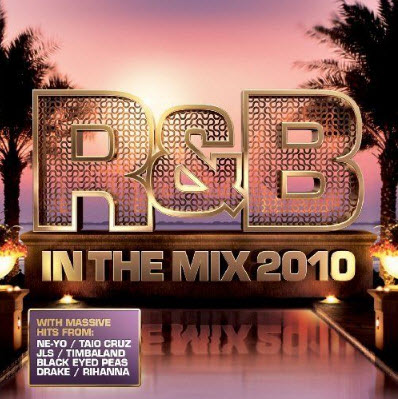 VA - R&B in the Mix (2CD) (2010)
1CD | MP3 CBR 320 kbps | Release: 2010 | Label: UMTV | 314MB (+3% Rec)
Genre: R&B, Miscellaneous
R&B in the Mix 2010 is where dance and R&B fuse, with massive tracks from NeYo and Taio Cruz as well as other huge hits from Timbaland and Justin Timberlake, Aggros Santos, Kelly Rowland, Tinchy Stryder, the brand new rap mix of the number one smash Speak No Americano and huge mixes of the biggest names in the world including Lady Gaga and Cheryl Cole.
Track List:
CD1
01. Beautiful Monster - Ne-Yo, StarGate, Sandy Vee, Mikkel Eriksen, Phil Tan, Carlos Oyanedel, Damien Lewis, Josh Houghkirk, Low Sunday, Ron Haney, Bart Schoudel, Joey Arbagey (4:21)
02. Commander - Kelly Rowland, Rico Love, David Guetta, Sandy Vee, Ryan Evans, Thurston McCrea, Seth Foster (3:36)
03. We No Speak Americano (I Like That) - Yolanda B Cool, D Cup, Nabildon (2:57)
04. Dynamite - Lukasz Doctor Luke Gottwald, Taio Cruz, Benny Blanco, Emily Wright, Tatiana Gottwald, Irene Richter, Vanessa Silberman, Megan Dennis, Serban Ghenea, John Hanes, Tim Roberts, Tom Coyne (3:16)
05. Rude Boy - Rihanna, StarGate, Rob Swire, Makeba Riddick, Marcos Tovar, Ross Parkin, Kevin KD Davis, Anthony Palazzole, Chew Fu (4:03)
06. Bad Romance - Lady Gaga (7:07)
07. Spaceship - Benny Benassi, Kelis, apl.de.ap, Jean Baptiste (3:00)
08. Barbra Streisand - Duck Sauce (2:19)
09. Imma Be - Black Eyed Peas (4:14)
10. I Like - Keri Hilson, Robin Grubert, David Jost (3:34)
11. Saint Or Sinner - Aggro Santos, Viktoria Hansen, Luke Reid, Kevin McPherson, Phil Tan (2:59)
12. Playing With Fire - N-Dubz, Mr Hudson (3:36)
13. Addicted To Love - Agent X, Ultra, Fearless, Ross "Dights" Parkin, Dappy (3:11)
14. Stereo Love - Edward Maya, Victoria Corneva, Vika Jigulina (3:00)
15. Acapella - Kelis (4:09)
16. Get Crazy - LMFAO (3:26)
17. Pon De Floor - Diplo, Major Lazer, Switch, Vybz Kartel, Afrojack (2:40)
18. Alors On Danse - Stromae (3:23)
19. Hey Hey - Dennis Ferrer (3:07)
20. I m Fly - Donae o (3:25)
21. One More Lie (Standing In The Shadows) - Craig David, Jerry Abbott, Grant Black, Donae o, Tim Debney (4:28)
CD2
01. Carry Out - Timbaland, Jerome Harmon, Justin Timberlake (3:52)
02. Find Your Love - Drake, Kanye West, Jeff Bhasker, Noah 40 Shebib, Noel Cadastre, Chris Gehringer (3:24)
03. Chillin - Wale, Lady Gaga (3:13)
04. One Shot - JLS (3:37)
05. Impossible - Arnthor, Shontelle, Chris Kasych, Phil Tan, Damien Lewis (3:42)
06. Your Love - Andrew Papa Justifi Wansel, Nicki Minaj, Brian Big Bass Gardner (3:59)
07. BedRock - Kane, Young Money, Finis KY White, Lloyd, Fabian Marasciullo, Elizabeth Gallardo, Lil Wayne, Gudda Gudda, Nicki Minaj, Drake, Tyga, Jae Millz (3:14)
08. Baby - C. Tricky Stewart, Justin Bieber, Ludacris, Terius Nash, Kuk Harrell, Kevin Porter, Brian B-LUV Thomas, Andrew Wuepper, Kelly Sheehan, Luis Navarro, Pat Thrall, Joshua Monroy, Jaycen Joshua, Giancarlo Lino, Monte Neuble (3:29)
09. I Gotta Feeling - Black Eyed Peas, David Guetta (4:47)
10. Shutterbugg - Big Boi, Scott Storch, Cutty, Wayne The Brain Allison, Lucas Rumpotis, Chris Carmouche, Moka Carmouche, Warren Bletcher, Debra Killings, Kevin Kendricks, Donny Mathis (3:27)
11. Written On Her - Birdman, Oddz.N.Endz Music, Fabian Marascuillo, Jay Sean, Brian Gardner (3:24)
12. How Low - Ludacris, T-Minus, Joshua Monroy, Leslie Brathwaite, Brian Pederson, Carla Y. Henderson (3:20)
13. Telephone - Lady Gaga (3:38)
14. If We Ever Meet Again - Timbaland, Katy Perry (3:57)
15. Do You Remember - J. Remy, Jay Sean, BobbyBass, Sean Paul, Jordan DJ Swivel Young, Lil Jon (3:26)
16. Hush Hush; Hush Hush - The Pussycat Dolls (4:07)
17. TiK ToK - Ke$ha (3:18)
18. In My System - Fraser T. Smith, Tinchy Stryder, Beatriz Artola, Isabel Seeliger Morley, Ayak Thiik, Dave Turner (3:31)
19. Super High - DJ Clark Kent, Rick Ross, Eddie eMIX Hernandez, Ne-Yo, Scott Berger-Felder, Jaymz Hardy Martin III, Gimel Young Guru Keaton, Andre Cleghorn, Rennie Johnson (3:44)
20. I Made It (Cash Money Heroes) - Kevin Rudolf, Birdman, Joshua Berkman, Fareed Salamah, Jay Sean, Lil Wayne, Michael "BANGER" Cadahia, Serban Ghenea, Tim Roberts (4:14)
21. Turn My Swag On - Natural Disaster, Soulja Boy Tell em, Antonio Randolph (3:26)
Download Links

Hotfile
http://hotfile.com/dl/74602572/92215c7/VA_2010_RB_in_the_Mix.2CD.part1.rar.html
http://hotfile.com/dl/74602605/dd3ab53/VA_2010_RB_in_the_Mix.2CD.part2.rar.html
http://hotfile.com/dl/74602759/ecc9049/VA_2010_RB_in_the_Mix.2CD.part3.rar.html

Fileserve
http://www.fileserve.com/file/KEatZBx/VA
http://www.fileserve.com/file/uhXCQYV/VA
http://www.fileserve.com/file/kbVvnJy/VA


All links are interchangable. It mean you can download any part of archive from any server and can extract it without problem! PM me if links are dead, I will try to re-upload the file if I can!