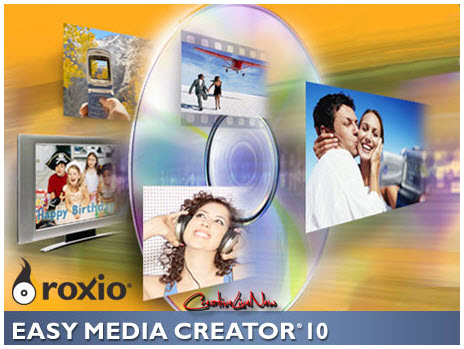 Roxio Easy Media Creator Suite 10.0.044 Multilingual | 777 MB
The new Roxio Easy Media Creator 10 gives you creative inspiration and all the tools you need to enhance your digital lifestyle. Create, share and enjoy your movies, memories and music as only you can.
* A 3 step wizard lets you auto edit your movie. Then upload to YouTube in one click or put it on DVD.
* Capture and edit HD video and add surround sound playback.
* Record internet radio, batch convert files, backup your iPod and more.
* Enhance photos and video taken on your mobile devices and use them in projects with your other media.
* Certified for Windows Vista and fully supports Windows XP.
Roxio Creator 2010 Highlights:
Faster, More Versatile Video Roxio Creator 2010 s new and enhanced video features improve the consumer video experience at every level From brilliant high definition video on the big screen to easy to share clips for phones and mobile devices:
* Accelerated encode processing support for ATI Stream and NVIDIA CUDA technologies means encoding and rendering is now up to five times faster.
* Automatic smart encoding Creator 2010s intelligent video editor speeds rendering of edited clips by determining which parts must be re encoded (e.g. titles and transitions) while leaving the remaining footage in its original form. In addition, Creator 2010 is the first application to support Smart Encoding for AVCHD videos.
* Flexible encoding control Creator 2010 now allows users to preview the results of current video encoding settings before committing to a lengthy conversion, to pause and resume processor intensive encoding operations, and to schedule conversions for times when the computer is not otherwise in use, such as overnight.
* Blu ray Disc authoring Creator 2010 builds HD video clips into true high definition discs playable not only on PCs but also on set top BD players.
* Direct BD RE editing video recorded on BD RE can be edited directly on disc without first transferring to a local hard drive and then re recording back to disc.
* AVCHD archiving Creator 2010 backs up an entire camcorders worth of AVCHD video at its original high definition resolution to a recordable Blu ray disc (BD R or BD RE) or a standard DVD in AVCHD format.
* BD playback on PC an optional Blu ray Playback plug in enables playback on PC of BDs including Hollywood movies.
* Direct HDV to disc high definition camcorder video can be recorded directly to a PC hosted DVD or Blu ray recordable drive without the interim step of storing the video to the hard drive.
* Web video capture online streaming videos can now be grabbed to a local hard drive and converted for viewing away from a PC, including from portable devices and set top DVD players.
* Streamlined output options newly simplified and reorganized, the output display now emphasizes target output devices which are represented with easily recognized pictures to aid identification.
* Video compilations improved compilation features allow fast assembly of clips into compilations that are optimized for DVD playback and burned to disc.
Download Links


Hotfile

http://hotfile.com/dl/54713468/2927e43/Roxio_10_0044_DMZ.part1.rar.html

http://hotfile.com/dl/54714089/74f5e28/Roxio_10_0044_DMZ.part2.rar.html

http://hotfile.com/dl/54714204/4051bdf/Roxio_10_0044_DMZ.part3.rar.html