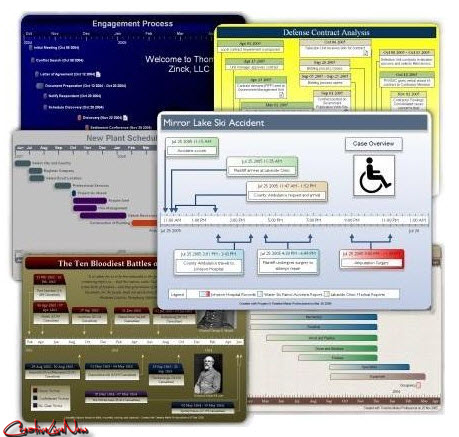 TimeLine Maker Professional 2.1.8.2 | 24 MB
If youve been creating timeline charts on a regular basis then you already know what an intricate, time consuming process it can be. Our industry leading timeline software removes all of the manual processes found in other methods and automatically builds the timeline for you, with no need to draw. With a short learning curve, tons of automatic features, knock out charts and interactive presentation capabilities, Timeline Maker Professional is the best timeline solution available. Anywhere.
Features:
* One click Timelines Create great looking charts quickly. Just one click on the chart tab and the chart instantly appears.
* No Learning Curve Start creating your first timeline as soon as you launch the software. Its so easy there is no learning curve.
* Built in Themes Easily change the appearance of your chart using the built in library of themes/styles.
* Easy Customization Customize the chart by creating your own themes/styles, using corporate colors and logos or by adding photos and clipart to visually tell the story.
* Include Links Include links to external documents, websites, audio clips and video clips to supplement the data in the chart.
* Assign Category Colors Color code events and categories for easy visual interpretation.
* Import Event Data Save time by importing events from other software applications.
* Export Event Data Export your timeline data to a text file for backup or import into other applications.
* Add Notes Easily add annotations to a timeline or provide comments to the author.
* Automatic/Manual Time scale Specify the begin and end dates/times for your time scale or let the program automatically determine this for you.
* Multiple Charts Create multiple charts from the same Timeline Maker file so you dont need to create separate data files.
* Customize Data Fields Several data field labels can be changed so the event data is more meaningful to you.
* Spell check Check for spelling errors using the built in general and medical dictionaries.
* Print on Any Paper Size Print on any paper size you need, even large format printers.
* Numerous Publish Options Publish timeline charts to a common graphic file type (.jpg, .gif, .bmp, .png) or output the timeline charts to PDF or HTML for publication or sharing.
* Built in Presentation Mode Use the built in presentation mode to quickly and easily present your timeline chart(s) to a group No additional software necessary!
* Seamless PowerPoint Integration Insert the chart(s) into Microsoft PowerPoint slides using the new Timeline Maker PowerPoint menu option.
* Package for Sharing Use the exclusive Package for Sharing feature that automatically collects all linked files, attached images, documents, etc. and creates a zipped file to transport or send the complete timeline file with confidence.