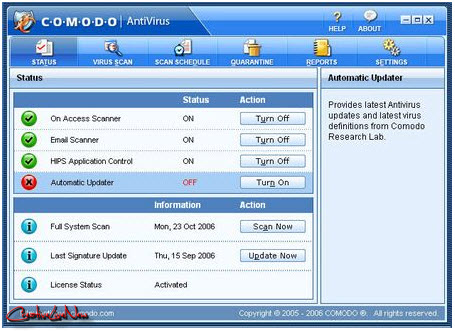 Comodo AntiVirus 4.1.150349.920 x86 and x64 | 60 MB + 61 MB
Developed by one of the world s leading IT security providers, Comodo AntiVirus leverages multiple technologies (including on demand & on access scanning, email scanning, process monitoring and worm blocking) to immediately start cleaning or quarantining suspicious files from your hard drives, shared disks, emails, downloads and system memory. Comodo Antivirus is the free way to rid your computer of viruses, malware, Trojans, worms, hackers, and other Internet threats. This version takes security to the next level by introducing auto sandboxing of untrusted files totally isolating unknown threats in a virtual operating environment where they cannot do harm. Scan any drive or file. Get in depth reports on viral activity. Detect suspicious files that behave like viruses do. Even scan compressed .zip files, where viruses often hide. Proactive intelligent protection intercepts unknown threats. Comodo Antivirus also includes a mechanism for you to submit any files you think are suspicious to Comodo for analysis.
You ll get near immediate feedback from our security experts and your own PC using peers. Updated virus definitions are automatically downloaded according to a schedule that you choose or by one click on the updater button. When used in conjunction with Comodo Firewall, your PC is being protected by two powerful tools to repel, track down, or destroy viral invaders. It s a free security system offering multiple layers of protection that exceeds even the big guys out there. Includes free automatic updates for the latest in antivirus coverage. It s real protection at no cost.
Unique Antivirus Features::
* Detects, blocks, and destroys viruses
* Immediate feedback on suspicious files
* Protects with On Access scanning
* Schedule your scans
* Daily automatic updates
Antivirus Important Features:
* Default Deny Protection. Makes sure that only known PC safe applications execute
* Prevention based security. Stops viruses and malware before they access your computerůso it isn t too late to stop them.
* Sandbox technology. The sandbox is a virtual operating environment for untrusted programs ensuring viruses and other malicious software are completely isolated from the rest of your computer
* Full strength, top notch virus detection and elimination. Our download offers free Antivirus protection that exceeds the protection offered by expensive security suites
* Quarantine system to isolate suspicious files. Possible viruses are kept executing to ensure that nothing sneaky gets through
* Personalized protection. Set virus scans to run on a schedule, when it s convenient for you
* One click scanning. Make sure your PC is clean with one simple button click
* Easy and user friendly interface. Simply install and forget, while Antivirus continues to protect
* Real time access to updated virus definitions. Get the most current protection possible against new viral strains
* Unique slider to easily change your current security level. Change the behavior of Antivirus to reflect your security preferences at any given time
Comodo AntiVirus 4.1.150349.920 x86
Download Links


Hotfile

http://hotfile.com/dl/54506453/90582d6/Comodo_AntiVirus_4_1_150349_920_x64_DMZ.rar.html

http://hotfile.com/dl/54507916/5f9a895/Comodo_AntiVirus_4_1_150349_920_x86_DMZ.rar.html