The Lost Battalion (2001) m720p BRRip x264-vsenc
Matroska | 2.048 GB | 1276x720 | AVC @ 2 681 Kbps | English | AC3 @ 448 Kbps - 6 channels | 1h 31minutes
Genre: Action | Drama | War
In 1918 in World War I, in the Meuse-Argonne Sector in France, the former New York lawyer and Major Charles White Whittlesey is assigned by Gen. Robert Alexander to a massive suicidal attack against the German forces in the Argonne Forest with his five-hundred-man battalion. However, the forces supposed to be giving support through the flanks retreat and the communications with the headquarter of the 77th American Division are cut. Major Wittlesey holds his position with his men, mostly Irish, Polish, Italian and Jewish immigrants from New York, surrounded by the German army. Without food, water, ammunition and medical supplies, only two hundred men survive after five days of siege.
Screenshot: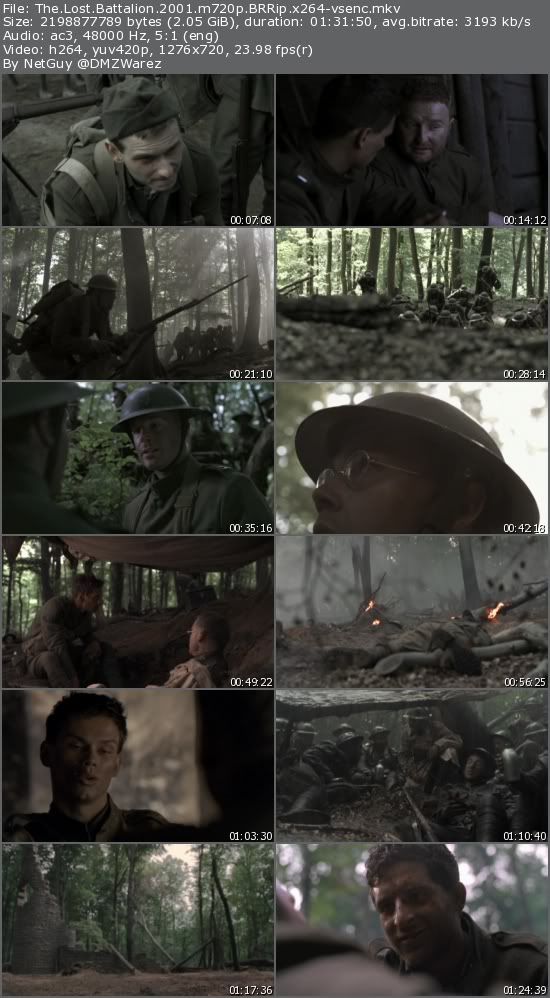 Download Links
Ul
http://ul.to/2n8z4nhx/ThLoBa20m7BRx2vs.part01.rar
http://ul.to/j5hnmtfo/ThLoBa20m7BRx2vs.part02.rar
http://ul.to/rmoies8k/ThLoBa20m7BRx2vs.part03.rar
http://ul.to/0dddrzh3/ThLoBa20m7BRx2vs.part04.rar
http://ul.to/zrv4wttg/ThLoBa20m7BRx2vs.part05.rar
http://ul.to/1xt6jvvs/ThLoBa20m7BRx2vs.part06.rar
http://ul.to/zclsamo7/ThLoBa20m7BRx2vs.part07.rar
http://ul.to/wc00ile6/ThLoBa20m7BRx2vs.part08.rar
http://ul.to/52be2cyq/ThLoBa20m7BRx2vs.part09.rar