The Hangover Part II (2011) m480p BluRay x264-Jewelraz
Matroska | 909.8 MB | 852x356 | AVC @ 800 Kbps | English | AC3 @ 448 Kbps - 6 channels | 1h 41minutes
Genre: Comedy
Stu is getting married. Along with Doug, Phil, and his soon-to-be brother-in-law Teddy, he regretfully invites Alan to Thailand for the wedding. After a quiet night on the beach with a beer and toasting marshmallows by the camp fire, Stu, Alan and Phil wake up in a seedy apartment in Bangkok. Doug is back at the resort, but Teddy is missing, there s a monkey with a severed finger, Alan s head is shaved, Stu has a tattoo on his face, and they can t remember any of it. The wolf-pack retrace their steps through strip clubs, tattoo parlors and cocaine-dealing monkeys on the streets of Bangkok as they try and find Teddy before the wedding.
Screenshot: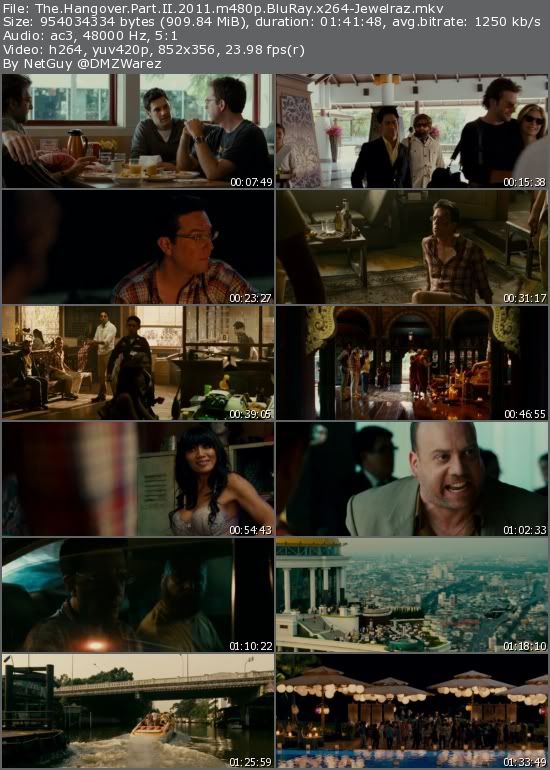 Download Links
Filesonic
http://www.filesonic.com/file/3975115094/ThHaPaII20m4Blx2Je.part1.rar
http://www.filesonic.com/file/3974477004/ThHaPaII20m4Blx2Je.part2.rar
http://www.filesonic.com/file/3974477394/ThHaPaII20m4Blx2Je.part3.rar
http://www.filesonic.com/file/3974476444/ThHaPaII20m4Blx2Je.part4.rar

Filejungle
http://www.filejungle.com/f/Q22uCZ/ThHaPaII20m4Blx2Je.part1.rar
http://www.filejungle.com/f/ywQhWF/ThHaPaII20m4Blx2Je.part2.rar
http://www.filejungle.com/f/xd2wP9/ThHaPaII20m4Blx2Je.part3.rar
http://www.filejungle.com/f/mubH2B/ThHaPaII20m4Blx2Je.part4.rar

Fileserve
http://www.fileserve.com/file/TBcukwh/ThHaPaII20m4Blx2Je.part1.rar
http://www.fileserve.com/file/zQWvwQU/ThHaPaII20m4Blx2Je.part2.rar
http://www.fileserve.com/file/n3FGBph/ThHaPaII20m4Blx2Je.part3.rar
http://www.fileserve.com/file/aYnnqeD/ThHaPaII20m4Blx2Je.part4.rar