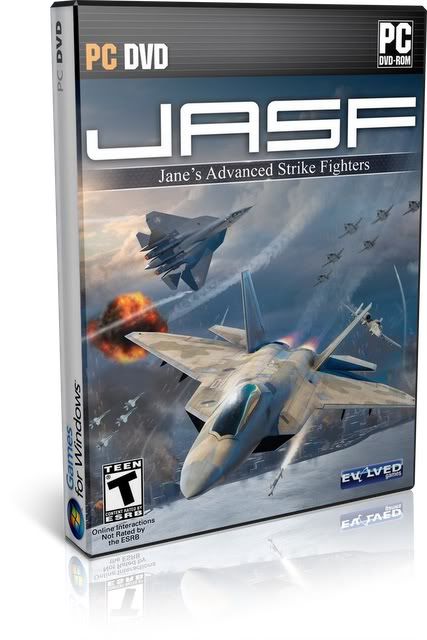 Jane's Advanced Strike Fighters (2011/ENG/Mutli4/RIP by TeaM CrossFirE)
PC Game | Languge : Eng, Fre, Ger, Ita, Spa
Developer: Trickstar Games | Publisher: Evolved Games | 902 MB
Genre: Arcade / Simulator (Flight Combat) / 3D
Game J.A.S.F. Jane s Advanced Strike Fighters - an excellent aircraft simulator-style flight combat from the company Trickstar Games. The plot puts the player in the Middle East, in a fictional country Azbaristan. It has been ten years a bloody civil war. Most of the country occupied by the Northern People s Republic. Only one of the provinces still holds the Southern Democratic Union. It is this area is rich in its oil fields. Western countries have military support to the southerners, as they have their own views on the source of black gold . Only with the help of allies YUDS can hold off the attack. The player will go as a military pilot of the Allied armies. To implement the task of winged defender you must perform sixteen missions. The pilot have to fly over the sea, desert, industrial zones, mountains and even over large metropolitan areas. Total playing area is about 65 thousand kilometers ...
Features:
- The game J.A.S.F. Jane s Advanced Strike Fighters are more than thirty models of real fighter jets
- Multiplayer mode that allows you to meet online to 16 participants simultaneously, and compare - which of these models, the most militant
- The mode of cooperative transmission - from 2 to 4 people
System requirements:
- Operating system:
Microsoft Windows XP / Windows Vista / Windows 7even
- Processor:
Intel Pentium 4 3.0 GHz or equivalent AMD Athlon 64 3000 +
- Memory:
2 GB (Windows XP) / 3 GB (Windows Vista / 7)
- Video:
3D-graphics adapter with 512 MB memory, compatible with DirectX 9.0 and supports Pixel Shader 3.0 (Nvidia GeForce 8800 GTS / ATI Radeon HD 3850 or better)
- Sound:
Sound card compatible with DirectX 9.0c
- Free hard drive space:
2 GB
- Additional software:
DirectX 9.0c
- Controls:
A keyboard and mouse
Features RIP a:
- It is based on the license - Evolved Games -
- Audio quality is 100%
- Video quality is 100%
- Do not cut
- Do not recoded
- Enclosing a tablet from THETA
- All the way registry maintained
- Requires at least 1 GB of RAM for installation
- Requires at least 2 GB of free space on HDD
- Run the game from a shortcut on the desktop (Setup.bat)
- Installing additional. Software:
DirectX (Setup.bat)
- No installation required
- RIPed by [TeaM CrossFirE]
Installation instructions:
1. Unzip JAdvanced_SFighters.7z with 7zip v9.20 or newer version
2. Run Setup.bat and follow the instructions
3. Play
Download Links
Filesonic
http://www.filesonic.com/file/3596878904/JAdvanced_SFighters.part1.rar
http://www.filesonic.com/file/3596878924/JAdvanced_SFighters.part2.rar
http://www.filesonic.com/file/3596879014/JAdvanced_SFighters.part3.rar
http://www.filesonic.com/file/3596882294/JAdvanced_SFighters.part4.rar
http://www.filesonic.com/file/3596879034/JAdvanced_SFighters.part5.rar

Filejungle
http://www.filejungle.com/f/dmWFrZ/JAdvanced_SFighters.part1.rar
http://www.filejungle.com/f/SGJTbK/JAdvanced_SFighters.part2.rar
http://www.filejungle.com/f/n2WMzw/JAdvanced_SFighters.part3.rar
http://www.filejungle.com/f/BXAeHz/JAdvanced_SFighters.part4.rar
http://www.filejungle.com/f/Ch8xnE/JAdvanced_SFighters.part5.rar