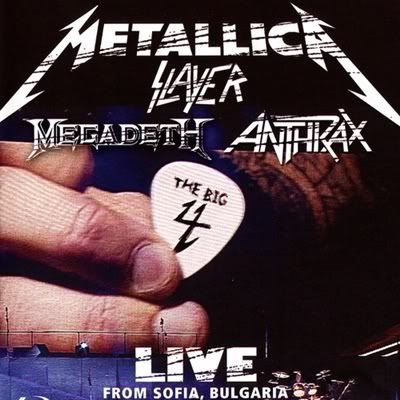 VA - The Big 4 - Live from Sofia, Bulgaria (SHM Super Deluxe Edition) (FLAC) (2010)
EAC Rip | Flac(tracks) - cue - log | 2.21 GB | 5 CDs | No Scans
Genre: Rock
Anthrax - 1 Hour
Megadeth - 1 Hour
Slayer - 1 Hour
Metallica - 2 Hours
These four acts broke out of the underground thrash movement in the 1980's to dominate the metal world, selling millions of records and packing arenas across the globe. Despite huge demand, these musical giants had never shared the same stage. The legendary June 22nd, 2010, concert from the tour's stop of the Sonisphere Festival in Sofia, Bulgaria aired the same day in 79 movie theaters in the U.K, over 450 theaters in over 140 markets in the US, as well as being beamed into theaters in Europe, Canada, Latin America, Australia, South Africa and New Zealand.
In December 2009, the bands announced that they would be joining forces to take part in the traveling Sonisphere Festival for only 7 shows across Europe. This one-time only event, from the Sofia show, made it possible for fans far and wide to participate in what otherwise was a very limited run of dates.
Lars Ulrich of Metallica says of this historic show, 'Who would have thought that more than 25 years after its inception, thrash metal's Big Four would not only still be around, be more popular than ever, playing shows together at stadiums all over Europe, and on top of that, coming to a movie theater near you in High Definition (for better or worse??!!). Bring it on!'
Anthrax guitarist Scott Ian says, 'Damn, as if this Big 4 tour wasn't exciting enough, now we get to be on the big screen worldwide! Metal at the movies, two big horns up! It is unbelievably gratifying that this means so much to the metal community around the globe. Get your tix, grab some popcorn and get ready to bang your head!'
Declares Slayer's Kerry King, 'I can't believe someone didn't make this happen 15 years ago! The fans finally get what they want. I think it's awesome!'
Says Megadeth's Dave Mustaine, 'The magnitude of this event hasn't really sunk in yet, and I am thrilled to know that people around the planet will be able to walk into a movie theatre and experience the greatest line up of Heavy Metal in the history of the world!'
Track List:
Disc: 1
1. Caught In A Mosh
2. Got The Time
3. Madhouse
4. Be All, End All
5. Antisocial
6. Indians
7. Medusa
8. Only
9. Metal Thrashing Mad
10. I Am The Law
Disc: 2
1. Holy Wars
2. Hangar 18
3. Wake Up Dead
4. Head Crusher
5. In My Darkest Hour
6. Skin O' My Teeth
7. A Tout Le Monde
8. Hook In Mouth
9. Trust
10. Sweating Bullets
11. Symphony Of Destruction
12. Peace Sells
Disc: 3
1. World Painted Blood
2. Jihad
3. War Ensemble
4. Hate Worldwide
5. Seasons In The Abyss
6. Angel Of Death
7. Beauty Through Order
8. Disciple
9. Mandatory Suicide
10. Chemical Warfare
11. South Of Heaven
12. Raining Blood
Disc: 4
1. Creeping Death
2. For Whom The Bell Tolls
3. Fuel
4. Harvester Of Sorrow
5. Fade To Black
6. That Was Just Your Life
7. Cyanide
8. Sad But True
9. Sanitarium
10. All Nightmare Long
Disc: 5
1. One
2. Master Of Puppets
3. Blackened
4. Nothing Else Matters
5. Enter Sandman
6. Am I Evil?
7. Hit The Lights
8. Seek And Destroy
Download links:

Download(FileSonic):
http://www.filesonic.com/file/3238069304/kom16_big4_cd01.part1.rar
http://www.filesonic.com/file/3238069294/kom16_big4_cd01.part2.rar
http://www.filesonic.com/file/3238128864/kom16_big4_cd02.part1.rar
http://www.filesonic.com/file/3238117604/kom16_big4_cd02.part2.rar
http://www.filesonic.com/file/3238137844/kom16_big4_cd03.part1.rar
http://www.filesonic.com/file/3238137864/kom16_big4_cd03.part2.rar
http://www.filesonic.com/file/3238149714/kom16_big4_cd04.part1.rar
http://www.filesonic.com/file/3238144474/kom16_big4_cd04.part2.rar
http://www.filesonic.com/file/3238155114/kom16_big4_cd05.part1.rar
http://www.filesonic.com/file/3238155094/kom16_big4_cd05.part2.rar

Download(Wupload):
http://www.wupload.com/file/2010296937/kom16_big4_cd01.part1.rar
http://www.wupload.com/file/2010297227/kom16_big4_cd01.part2.rar
http://www.wupload.com/file/2011223717/kom16_big4_cd02.part1.rar
http://www.wupload.com/file/2011223797/kom16_big4_cd02.part2.rar
http://www.wupload.com/file/2011882807/kom16_big4_cd03.part1.rar
http://www.wupload.com/file/2011882562/kom16_big4_cd03.part2.rar
http://www.wupload.com/file/2012636387/kom16_big4_cd04.part1.rar
http://www.wupload.com/file/2012638827/kom16_big4_cd04.part2.rar
http://www.wupload.com/file/2013284382/kom16_big4_cd05.part1.rar
http://www.wupload.com/file/2013284372/kom16_big4_cd05.part2.rar

Download(Filejungle):
http://www.filejungle.com/f/kuuCWM/kom16_big4_cd01.part1.rar
http://www.filejungle.com/f/ejv9Q9/kom16_big4_cd01.part2.rar
http://www.filejungle.com/f/ZuS86A/kom16_big4_cd02.part1.rar
http://www.filejungle.com/f/JtBms4/kom16_big4_cd02.part2.rar
http://www.filejungle.com/f/zpdD2V/kom16_big4_cd03.part1.rar
http://www.filejungle.com/f/2vTcH9/kom16_big4_cd03.part2.rar
http://www.filejungle.com/f/nreszX/kom16_big4_cd04.part1.rar
http://www.filejungle.com/f/WWcjZx/kom16_big4_cd04.part2.rar
http://www.filejungle.com/f/8ZzMZ5/kom16_big4_cd05.part1.rar
http://www.filejungle.com/f/QwUEK7/kom16_big4_cd05.part2.rar

Download(FileServe):
http://www.fileserve.com/file/PuMttK5/kom16_big4_cd01.part1.rar
http://www.fileserve.com/file/hsFfEsN/kom16_big4_cd01.part2.rar
http://www.fileserve.com/file/Nqp4jsk/kom16_big4_cd02.part1.rar
http://www.fileserve.com/file/crRjgcT/kom16_big4_cd02.part2.rar
http://www.fileserve.com/file/fYF4PXC/kom16_big4_cd03.part1.rar
http://www.fileserve.com/file/GJPvFZ2/kom16_big4_cd03.part2.rar
http://www.fileserve.com/file/zfQCjxt/kom16_big4_cd04.part1.rar
http://www.fileserve.com/file/m6qGtXa/kom16_big4_cd04.part2.rar
http://www.fileserve.com/file/jSQThBW/kom16_big4_cd05.part1.rar
http://www.fileserve.com/file/gcfKTb2/kom16_big4_cd05.part2.rar