Our Idiot Brother (2011) m480p BluRay AAC x264-HD17
Matroska | 808.1 MB | 848x480 | AVC @ 1 000 Kbps | English | AAC LC @ 48.0 KHz - 6 channels | 1h 29minutes
Genre: Comedy | Drama
Every family has one - the sibling who is always just a little bit behind the curve when it comes to getting his life together. For sisters Liz (Emily Mortimer), Miranda (Elizabeth Banks) and Natalie (Zooey Deschanel), that person is their perennially upbeat brother Ned (Paul Rudd), an erstwhile organic farmer whose willingness to rely on the honesty of mankind is a less-than-optimum strategy for a tidy, trouble-free existence. Ned may be utterly lacking in common sense.
Screenshot: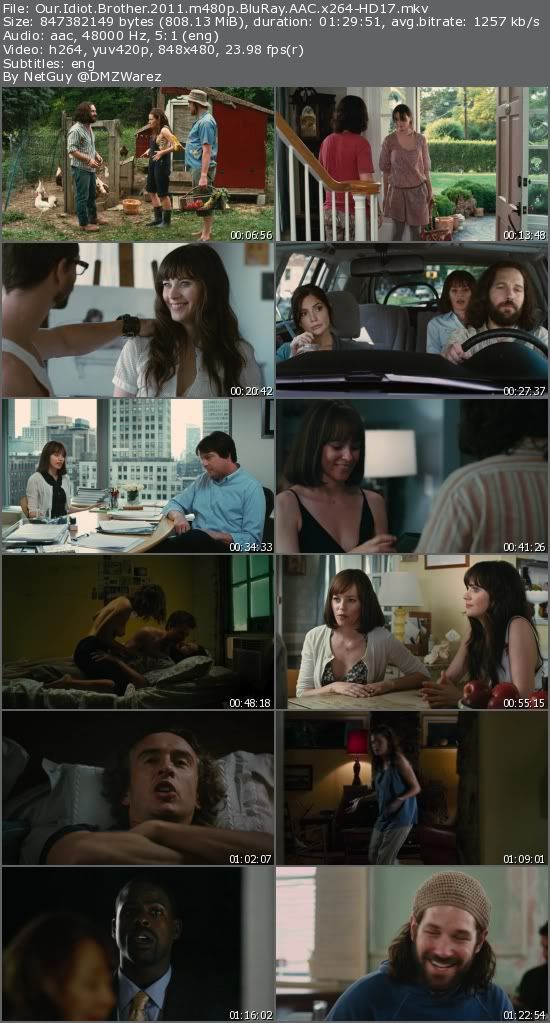 Download Links
Filesonic
http://www.filesonic.com/file/3309689634/OuIdBr20m4BlAAx2HD.part1.rar
http://www.filesonic.com/file/3309693604/OuIdBr20m4BlAAx2HD.part2.rar
http://www.filesonic.com/file/3309692924/OuIdBr20m4BlAAx2HD.part3.rar
http://www.filesonic.com/file/3309684394/OuIdBr20m4BlAAx2HD.part4.rar

Fileserve
http://www.fileserve.com/file/9qvThHF/OuIdBr20m4BlAAx2HD.part1.rar
http://www.fileserve.com/file/TmdDd8w/OuIdBr20m4BlAAx2HD.part2.rar
http://www.fileserve.com/file/4vjdBxC/OuIdBr20m4BlAAx2HD.part3.rar
http://www.fileserve.com/file/dWwRY5B/OuIdBr20m4BlAAx2HD.part4.rar

Filepost
http://filepost.com/files/83mc89ea/OuIdBr20m4BlAAx2HD.part1.rar
http://filepost.com/files/dmd13417/OuIdBr20m4BlAAx2HD.part2.rar
http://filepost.com/files/639c8mm1/OuIdBr20m4BlAAx2HD.part3.rar
http://filepost.com/files/7bdf8b9d/OuIdBr20m4BlAAx2HD.part4.rar

Crocko
http://www.crocko.com/C3412F84C883456699E5A289772357DD/OuIdBr20m4BlAAx2HD.part1.rar
http://www.crocko.com/C4BBCD34C41E45F7A146F82095491739/OuIdBr20m4BlAAx2HD.part2.rar
http://www.crocko.com/8256BF792AF548DBAD49180DE6E59D4C/OuIdBr20m4BlAAx2HD.part3.rar
http://www.crocko.com/AF87615034CF4105A71AD01593D563FB/OuIdBr20m4BlAAx2HD.part4.rar