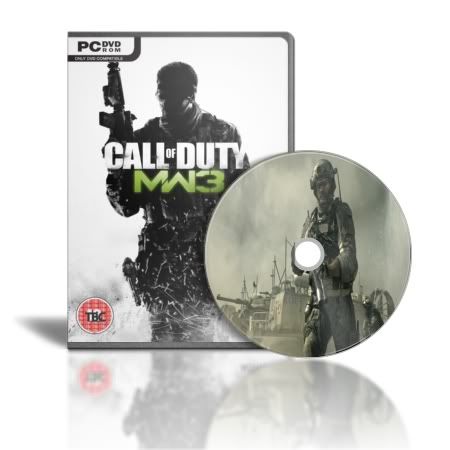 Call of Duty: Modern Warfare 3 - Update repack with Perfect Crack - ALI213 | 5.3 Gb
Year: 2011 | Genre: Action (Shooter) / 3D / 1st Person | Platform: PC | Protection: SteamWork + CEG | Cracked by ALI213
Publisher: Activision | Developer: Infinity Ward, Sledgehammer Games and Raven Software | ENG
The best-selling first person action series of all-time returns with the epic sequel to multiple Game of the Year award winner, Call of Duty :
Modern Warfare 2. In the world's darkest hour, are you willing to do what is necessary? Prepare yourself for a cinematic thrill-ride only Call of Duty can deliver. The definitive Multiplayer experience returns bigger and better than ever, loaded with new maps, modes and features. Co-Op play has evolved with all-new Spec-Ops missions and leaderboards, as well as Survival Mode, an action-packed combat progression unlike any other.
Features:
* The definitive multiplayer experience returns bigger than ever
* Special Ops co-op reinvented with all-new survival mode
* New Kill Streak categories (Assault, Support and Specialist) that offer new perks and options for players
* Customizable strike package options based on kill streaks
* New weapons, new modes and new maps.
System Requirements:
- OS:
Windows XP/ Windows Vista / Windows 7
- Processor:
Intel Core 2 Duo E6600 or AMD Phenom X3 8750 processor or better
- Memory:
2 GB RAM
- Graphics:
Shader 3.0 or better 256 MB NVIDIA GeForce 8600GT / ATI Radeon X1950 or better
- DirectX :
DirectX 9.0c or later
- Hard Drive:
16 GB free hard drive space
- Sound:
DirectX 9.0c or later
Year:
2011
Genre:
Action (Shooter) / 3D / 1st Person
Developer:
Infinity Ward, Sledgehammer Games and Raven Software
Publisher:
Activision
Platform:
PC
Installation instructions:
1) Extract the RAR execute EXE to install the game
2) Download and execute Codmw3.Update1.With.Perfect.Crack.Patch.exe install Patch 1 Free DVD
3) special attention, just under the single-player is not playing SOLO mode, you need to download 1.3GB multiplayer part, post, there are
The so-called SOLO, is to let you in multiplayer maps in a fully uncle! !
Download Links
Wupload
http://www.wupload.com/file/2025359397/CMW3.SP.Repack.without.video.ALI213.part01.rar
http://www.wupload.com/file/2025373652/CMW3.SP.Repack.without.video.ALI213.part02.rar
http://www.wupload.com/file/2027095187/CMW3.SP.Repack.without.video.ALI213.part03.rar
http://www.wupload.com/file/2026123152/CMW3.SP.Repack.without.video.ALI213.part04.rar
http://www.wupload.com/file/2027094897/CMW3.SP.Repack.without.video.ALI213.part05.rar
http://www.wupload.com/file/2029867692/CMW3.SP.Repack.without.video.ALI213.part06.rar
http://www.wupload.com/file/2030105772/CMW3.SP.Repack.without.video.ALI213.part07.rar
http://www.wupload.com/file/2031052602/CMW3.SP.Repack.without.video.ALI213.part08.rar
http://www.wupload.com/file/2031931362/CMW3.SP.Repack.without.video.ALI213.part09.rar
http://www.wupload.com/file/2033460352/CMW3.SP.Repack.without.video.ALI213.part10.rar

Filesonic
http://www.filesonic.com/file/3238160814/CMW3.SP.Repack.without.video.ALI213.part01.rar
http://www.filesonic.com/file/3238168684/CMW3.SP.Repack.without.video.ALI213.part02.rar
http://www.filesonic.com/file/3238168584/CMW3.SP.Repack.without.video.ALI213.part03.rar
http://www.filesonic.com/file/3238168574/CMW3.SP.Repack.without.video.ALI213.part04.rar
http://www.filesonic.com/file/3238168674/CMW3.SP.Repack.without.video.ALI213.part05.rar
http://www.filesonic.com/file/3238168464/CMW3.SP.Repack.without.video.ALI213.part06.rar
http://www.filesonic.com/file/3238168714/CMW3.SP.Repack.without.video.ALI213.part07.rar
http://www.filesonic.com/file/3238168704/CMW3.SP.Repack.without.video.ALI213.part08.rar
http://www.filesonic.com/file/3238163344/CMW3.SP.Repack.without.video.ALI213.part09.rar
http://www.filesonic.com/file/3238162644/CMW3.SP.Repack.without.video.ALI213.part10.rar

Filejungle
http://www.filejungle.com/f/MMMnvT/CMW3.SP.Repack.without.video.ALI213.part01.rar
http://www.filejungle.com/f/SbARNx/CMW3.SP.Repack.without.video.ALI213.part02.rar
http://www.filejungle.com/f/C22p5U/CMW3.SP.Repack.without.video.ALI213.part03.rar
http://www.filejungle.com/f/u5t9Zw/CMW3.SP.Repack.without.video.ALI213.part04.rar
http://www.filejungle.com/f/7bXwqG/CMW3.SP.Repack.without.video.ALI213.part05.rar
http://www.filejungle.com/f/VKvKCX/CMW3.SP.Repack.without.video.ALI213.part06.rar
http://www.filejungle.com/f/ntNUZm/CMW3.SP.Repack.without.video.ALI213.part07.rar
http://www.filejungle.com/f/v54eQ7/CMW3.SP.Repack.without.video.ALI213.part08.rar
http://www.filejungle.com/f/xHMNTa/CMW3.SP.Repack.without.video.ALI213.part09.rar
http://www.filejungle.com/f/eQR5bW/CMW3.SP.Repack.without.video.ALI213.part10.rar