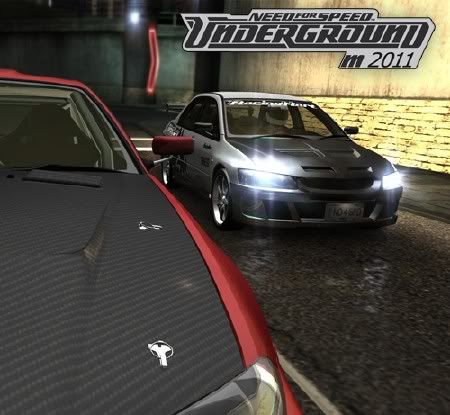 Need For Speed Underground m2011 (2011/Rus/Eng/RePack by R.G. BoxPack)
PC Game | Developer: EA Games | Publisher: Soft Club | 870 MB
Genre: Arcade / Racing (Cars) / 3D
eed For Speed ??Underground m2011 - the global version for NFS Underground, its purpose - to improve the technical quality of the game, preserving the original gameplay. All cars are similar to the original class and have a complete tuning from real manufacturers with additional capabilities. Graphics improved by adjusting the lighting and textures to replace the original similarities in high definition.
List of new vehicles:
Toyota Corolla GT-S AE86
Honda Civic SI
Honda CRX
Mazda MX5
Toyota Scion
Toyota MR-S 2004
Ford Focus SVT
Nissan 200SX
Subaru Impreza WRX STI 2005
Lexus IS300
Nissan Silvia
Toyota Celica 1.8
Mitsubishi Evo 8
Acura Integra Type R
1999 Mitsubishi Eclipse GSX
Toyota Supra Mk4
Nissan Skyline R33
Mazda RX-7
Nissan 350Z
Nissan Skyline R34 GTR
Chevrolet TrailBlazer
Chevrolet Express
Chevrolet Step Van
Lexus LS 400 (taxi ver.)
Alfa Romeo 155
Ford F-150
Download Links
Wupload
http://www.wupload.com/file/2044988522/NU.part1.rar
http://www.wupload.com/file/2045363932/NU.part2.rar
http://www.wupload.com/file/2045359762/NU.part3.rar
http://www.wupload.com/file/2046147827/NU.part4.rar
http://www.wupload.com/file/2045363232/NU.part5.rar

Filesonic
http://www.filesonic.com/file/3238154024/NU.part1.rar
http://www.filesonic.com/file/3238157634/NU.part2.rar
http://www.filesonic.com/file/3238160784/NU.part3.rar
http://www.filesonic.com/file/3238161474/NU.part4.rar
http://www.filesonic.com/file/3238149384/NU.part5.rar

Filejungle
http://www.filejungle.com/f/FVy4wP/NU.part1.rar
http://www.filejungle.com/f/xvUH3E/NU.part2.rar
http://www.filejungle.com/f/Az2TwU/NU.part3.rar
http://www.filejungle.com/f/evFeS9/NU.part4.rar
http://www.filejungle.com/f/uN6cMC/NU.part5.rar